[an error occurred while processing this directive]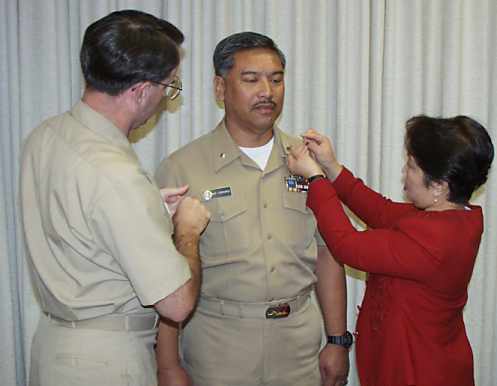 Here's a photo when the Commander's collar device were pinned on me by my wife, Amy, and Capt Dave Hearding, Operations Officer CINCPACFLT. I reported to CINCPACFLT staff after my Executive tour onboard USS WILLAMETTE (AO-180) home ported in Pearl Harbor. The last time I was stationed in Pearl Harbor was when I was onboard the USS R.S. EDWARDS (DD 950) as an EM3.

I was onboard the EDWARDS from Nov 1974 to Nov 1976. Its almost 22 years since I left the EDWARDS before I returned to Hawaii. I recognized some of the people in the photo and I am glad to see a website for the "Ready EDDY." I would be very interested to know the whereabouts of Tito Garcia (PNC), Jack Singleton (EMC) and Ed Lund (ICC).

Throughout my naval service I have met former EDWARDS crewmembers. Some of them are: EMC Oscar Petelo, EMCS Arnold Fernandez, Lito Dimal, Nandy Pura, MSC De LA Rosa, CDR Lionel Cheri, LCDR Takasugi. I'll try to dig up some of my photos and send them. All the best, Nap


CDR Nap S. Ferraris CPF N312 FLEET SUPPORT SHIP OFFICER (received May, 2000)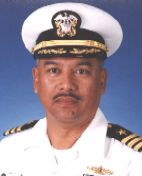 NAP S. FERRARIS
COMMANDER
UNITED STATES NAVY
Commander Ferraris enlisted in the Navy in April 1974 in Agana, Guam. He attended Electrician's Mate "A" school and reported aboard USS RICHARD S. EDWARDS (DD 950) homeport in Pearl Harbor, Hawaii as an EM3. His follow-on tour was aboard USS PROTEUS (AS 19) homeport in Guam followed by a Recruiter/Canvasser assignment in Long Beach, California. In 1982, he was selected for promotion to Electrician's Mate Chief. In the same year he was selected as a candidate for Enlisted Commissioning Program and attended University of New Mexico. After receiving his Bachelor's degree in May 1984 he attended Officers Candidate School in Newport, Rhode Island.
After receiving his commission in October 1984 and completion of Surface Warfare Officers Division Officer's course in San Diego, Commander Ferraris served as Communications Officer, Combat Information Center Officer, Auxiliary Officer and Electrical Officer aboard USS RACINE (LST 1191) in Long Beach, California. In November 1987, he was subsequently assigned to the Staff of Commander, Amphibious Squadron Three as Operations and Plans Officer. He served his initial Department Head tour as Operations Officer aboard USS RUSHMORE (LSD 41) from November 1992- May 1994. While onboard RUSHMORE he participated in the first Amphibious Assault, since World War II, in Mogadishu, Somalia. His second Department Head tour was aboard USS TRIPOLI (LPH 10) as Surface Operations Officer from May 1994- September 1995. Commander Ferraris served aboard USS WILLAMETTE (AO 180) as Executive Officer from May 1997 to her decommissioning on 30 April 1999.
Ashore, Commander Ferraris served in Fleet Training Group Pacific as Current Operations Scheduler and Diesel/Gas Turbine Engineering Team Leader from October 1989 to April 1992. Following his second Department Head tour, Commander Ferraris was assigned to the Staff of Commander, Naval Beach Group One as Amphibious Warfare Underway Training Officer from September 1995 to February 1997.
Commander Ferraris has been awarded the Navy Commendation Medal (four awards), Navy Achievement medal and various campaign and service medals.
Commander Ferraris is married to the former Amelita (Amy) R. Algura of Pasay City, Philippines. They have three children Allan (an OS3 aboard USS LAKE CHAMPLAIN), Arnold (a student at Leeward Community College) and Nicole (8th grade student at Moana Loa Intermediate school).